Beats vs Bose Wireless Headphones is unquestionably a matter of concern for everyone who has an obsession for music and spends most of his/her day with some earbuds or headphones inserted in the ears. Now, since we are up to the comparison of the two top brands, this all, for sure is meant to get greatly interesting as we go deeper with this very debate of ours.
The two brands under consideration are, fair enough, the industry leaders in the world of headphones and earbuds. Now, when it comes down to the choice of a standard good pair of headphones, there are various different influential factors that can have serious impacts on the final decision making. Visit Techtrada for more reviews on beast & bose wireless headphones.
This primarily depends upon what kind of major as well as minor functionality you want the most from your next headphones. Whether you intend to make their usage for personal purposes such as listening to music, workout sessions, phone calls, etc or you're opting for some specific properties such as noise-canceling, over-ear form factor, or good battery life.
Beats vs Bose Wireless Headphones; The Ultimate Comparison
Keeping in mind the fact that our products under consideration will be the Beats Studio3 Wireless Over-Ear Headphones and Bose QC35 II Noise Cancelling Headphones. Both of them are legit game-changers within their own dimensions and as for us. Today, here at Techtrada, we'll be going through a definitive analysis and various crucial facts and figures about the two.
For the purpose of convenience, let's segregate the aspects into a number of sections or let's say categories. So let's jump straight to our hottest and at the same time fairly trendiest Bose Vs Beats Battle.
Nevertheless, before we proceed any further with this pondering of the Which Is Better Bose Or Beats, it would be far better to have a quick overlook at the salient features of the two.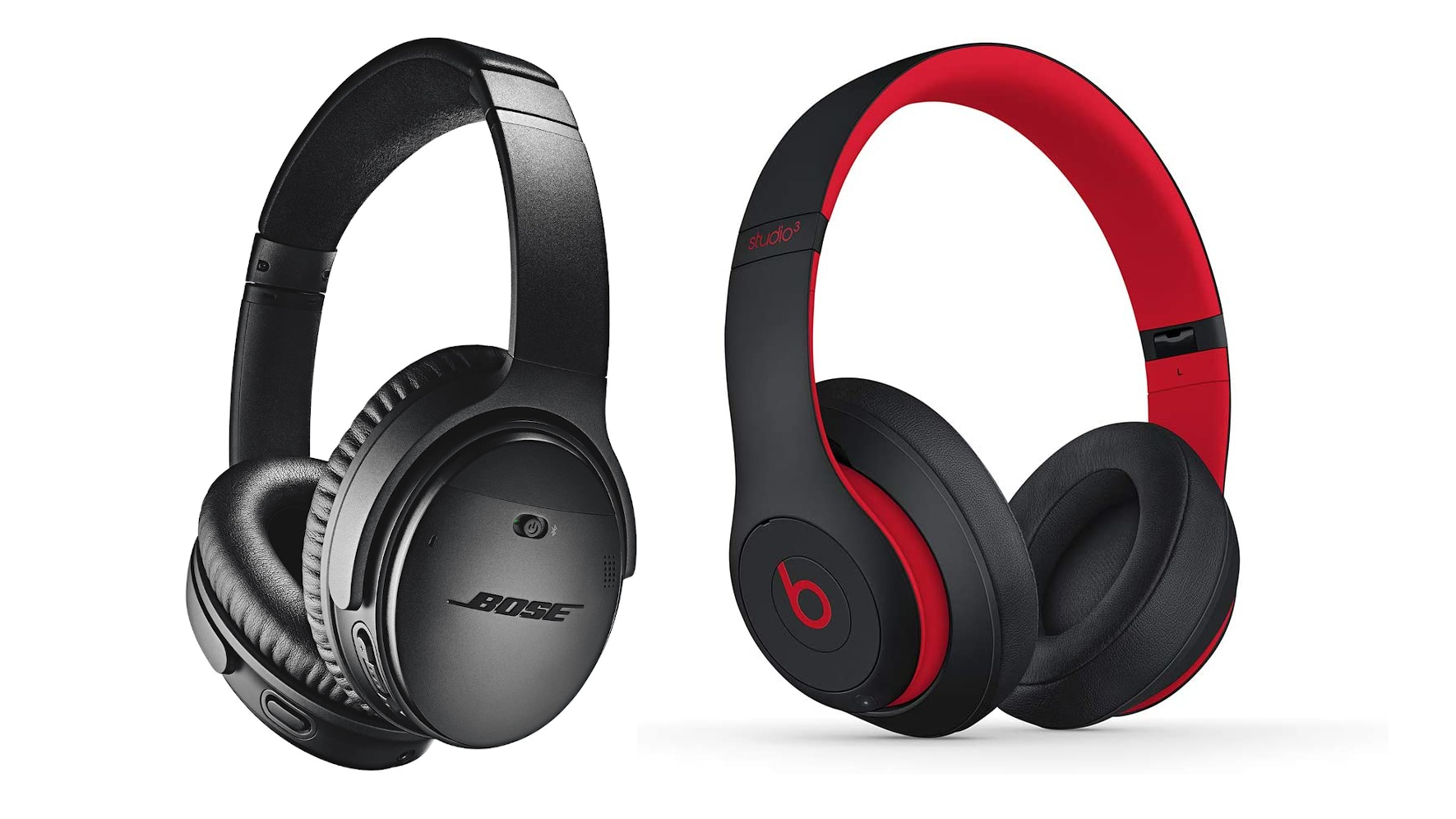 | | |
| --- | --- |
| Beats Studio3 | Bose QC 35 II |
| Brand: Apple | Brand: Bose |
| Connectivity Technology: Wireless | Connectivity Technology: Wireless |
| Form Factor: Over-Ear | Form Factor: Over-Ear |
| Noise Cancelling: Yes | Noise Cancelling: Yes |
| Compatibility: Android, iOS | Compatibility: Android, iOS |
| Battery Life: 22 hours | Battery Life: 20 hours |
Beats vs Bose Wireless Headphones; Design Profile
Beats Studio3 Wireless Over-Ear Headphones
Beats headphones, indeed are something exceptional in terms of being a classy pair of headphones. When choosing one (or more!) of the Beats Headphones, you'll be given a super cool choice range of 9 colors, so it's quite easy to have an idea of the fact that this is going to be a phenomenal upgrade to your musical tech stuff.
Plus, as a fun fact, these headphones will be a really eye-catching accessory for their owner, that's probably going to be you, very soon. For those of you, concerned about the storage side or how to pack these headphones while traveling/moving to be specific, we've got amazing news for you. The Beats Studio3 comes with an impressive travel-friendly structural profile.
You can fold them into a perfectly compact shape and post that, they can be nicely fitted into their included case while you move.
Bose QC 35 II Wireless Noise Cancelling Headphones
As for the Bose QC 35 II, you get a sublime quality design profile in either silver or sleek black color. These headphones offer the advantage of a not-so-notable profile, and if you're some sort of an introvert who doesn't want to divert any attention to him/herself and neither to the earpiece you're wearing, Bose QC is just your thing to go for. Their unnoticeable design doesn't tend to look very much engaging, yet these headphones feel amazing to the wearer.
The structure is ideally firm and the build quality is perfectly robust in nature, as well, making these headphones a true serviceable and entertaining part of your life. Not to mention the adequate satisfaction of your taste, as well.
Bose vs Beats; Sound Quality
Beats Studio3 Wireless Over-Ear Headphones
By all means, audio quality is the most fundamental side of our Beats Vs Bose Wireless Headphones comparison talk, since that's exactly what all the rage is about, right. If you've been a Beats headphones user in the past or at the moment, you might be quite aware of the fact that these headphones are well-known for their heavy bass extents.
Which, of course, might not be an acceptable factor for a considerable audience. Nevertheless, it's high time that you say farewell to that very thought of yours, because this incredible Studio3 model of the Beats Headphones isn't similar to its ancestors when it comes to drawbacks.
The audio quality you get with the Beats Studio3 headphones is a perfectly balanced one and this goes the same for all those criteria that can make or break the audio intensity of any given equipment. There is a bit of downside to the audio quality offered by these headphones. That is the sound might seem a bit muddled at times and that is one thing that won't be appreciated by all. So, settle for a choice wisely!
Bose QC 35 II Wireless Noise Cancelling Headphones
Bose QuietComfort is a winner at this point because it has surely beaten Beats Studio3 in providing significantly better audio quality. It offers perfect mid-range sound, that too, along with a number of other supportive and performance-enhancing factors, too. These headphones come with an increased number and functionality extent of vocals and the same goes for instruments separation, as well.
Getting a bit further, it's the highs and the bass, that work as legit deciding factors for any given sound quality. With that of the Bose Quiet Comfort Headphones, the highs and most importantly the bass don't emerge as extremely clear, since the level you get is a relatively balanced one. This makes these Headphones, if not the best, yet a better choice, for sure.
Beats vs Bose; Noise Cancelling
Beats Studio3 Wireless Over-Ear Headphones
Noise-cancelling definitely plays a vital role when it comes to the equipment we're about to choose as our musical plus entertainment equipment. And considering the significance, there must not be a single compromise when it comes to the effective blocking out of the sound that tends to disturb us in any way. So let's have this analysis within our Beats vs Bose Wireless Headphones comparison, as well.
As for the Beats Headphones, they make use of the ANC (Active Noise Cancelling) functionality, which works by flawlessly blocking out all the noise produced in the background. This also involves the noise that is created within the earcups by the microphone itself. Though it might not seem that much of importance, it can become a big deal at times, specifically, if you've got a sensitive hearing. Within that scenario, you wouldn't want to experience even the bits of disturbing hisses and at worst, noises.
The staggering effect produced by the Beats Headphones might not be acceptable for some users, since it does the complete ambient noise blockage. Still, it doesn't have any potential impact on music listening.
Bose QC 35 II Wireless Noise Cancelling Headphones
Bose, fair enough, is the true champion and show stealer when it comes to noise canceling. This is because it offers noise-canceling without any possible distortion or conditions. To emphasize this the right way, take a look at this explanation. With your Bose QC put on, you won't be hearing (and need to tolerate!) the outside noises at all, even if there is no music playing or another kind of sound being played.
The best part is that there is no sound hissing experienced with the Bose headphones, at all. Bose would neither be making you experience any hissing during the playback nor there would be any pressure sensation to be felt, as well. However, the pressure being produced is likely to be heard by you if you've got a sensitive hearing. All this contributes to a notable enhancement in the performance of the headphones and of course the pleasure experienced by the user.
And since we're right in the middle of a comparison of the two i.e. Beats vs Bose Wireless Headphones where there does arise the need for declaring a winner. So this criterion undoubtedly has been conquered by Bose QC 35 II, since with these headphones, there is a much lesser chance for the user to have to tolerate any hissing or sound distortion. In any way.
Bose vs Beats; Comfort Provision
Beats Studio3 Wireless Over-Ear Headphones
Beats being over-ear headphones tend to form cupping around your ears and they are highly adjustable as well, so as to make the wearing extremely comfortable for prolonged hours. The increased adjustment advantage also has the significance to provide a perfect fit for all head sizes.
Still, there's a dark side here, too. That is, the headphones don't fit that much adequately to those with big ears. Plus, there have been certain user reports that claim to have experienced a peeling off of materials after a mere usage of six months. So, if that isn't the situation suitable for you, you might want to look for a better option instead.
Bose QC 35 II Wireless Noise Cancelling Headphones
Bose QC comes with relatively heavier cans as compared to the Beats Headphones. But again that isn't a bothersome weight in any way, nor do you need to be concerned about feeling tired with them. These are the kind of headphones that will offer you a tight fit and this provides the advantage that they won't slip easily. And of course, this way, you can get along with your music listening sessions for hours on end.
Bose QC does offer the most comfortable fit and within a comparison of Bose Versus Beats, your ears won't be experiencing any smashing or the discomfort caused by can rims, when opting for Bose headphones. Plus, they are ideally lightweight, which makes it the easiest to wear them for prolonged hours. Yet, there is still something that needs to be worked on. And that is the fact that the users are likely to go through some sound leakage as the headphones weigh much notably.
Beats vs Bose; Battery Life
Beats Studio3 Wireless Over-Ear Headphones
Any and every discussion about tech stuff isn't definitely until the very emphasis of the kind of battery life we are going to get. This does go the same for what we are up to, today, the comparison between Beats vs Bose Wireless Headphones. As for the Beats headphones, they come with a built-in rechargeable battery. The standard battery life is a good 22 hours, not to forget within the wireless usage.
Over and above, with the ANC mode being disabled, the battery life can literally be expanded to 40 hours. Another astonishing perk is the fact that the working of Beats Studio3 can be enhanced even more when they are plugged in.
Bose QC 35 II Wireless Noise Cancelling Headphones
Bose QC 35 provides a functional timespan of 20 hours, in the first place. And for the good news, this timing can also be extended up to 25 hours and even 30 hours with a complete charge. Let's perk up this charging fact a bit more and brighten our day a little more, as well. When you make use of the included wire with headphones, the battery life can literally last up to 40 hours.
This does make it significantly obvious that your Bose QC 35 II headphones will remain serviceable for you as long as you desire and will be the most favorable enjoyment of yours, as well.
Beats Vs Bose Wireless Headphones; Some Quick Pros To Consider
Ahead are the salient features and bright side, being more specific of both the contestants of our Bose Versus Beats battle. This precise description will help you in making a decision a lot quicker when stuck with the pondering of Beats Or Bose Wireless Headphones.
Beats Studio3 Wireless Over-Ear Headphones are:
A classy pair of stylish headphones and totally worth owning
An excellent choice to consider when it comes to battery life
A heavy and fairly solid structural profile of headphones
Whereas, what we have on the other side,
Bose QC 35 II Wireless Noise Cancelling Headphones are:
The right choice when it comes to the ideal mid-range audio quality
Are extremely comfortable and ergonomic to wear
Offers the most amazing noise cancellation
Bose Versus Beats; The Downside As Well
Nevertheless, there are always some aspects that we can't forgo for sure and they do act as major deciding factors for our decision. And within this case, it's the frequently asked statement of Which Headphones Are Better Bose Or Beats?. So lets' get down to the downside, too.
Beats Studio3 Wireless Over-Ear Headphones Will:
Not be a standard good choice because of the relatively bad sound quality
Provide you with the audio that could seem a bit muddled
Not be a good fit for you if you have big ears
On the flip side of our Beats Or Bose Wireless Headphones debate, we have to consider that
Bose QC 35 II Wireless Noise Cancelling Headphones Will:
Make you experience sound leakage at times, due to their heavyweight
Not be appearing that much pleasing or flaunting to you
Not be your extensively functional headphones because of lesser battery life
Writer's Notes
As for the concluding comments of our Beats vs Bose Wireless Headphones Overview, it's a quite natural phenomenon for the choice to become much difficult, at times. And this indecisiveness comes from a number of different factors, a few of them could be either based on your past experiences or they have an equal likelihood of being stereotypes. Irrespective of what they are, it's always a wise approach to go through detailed research prior to settling for making a purchase.
With that said, we've come up with this precise info of Which Headphones Are Better Bose Or Beats. We've conducted our best to perfectly include all the crucial and influential factors, that you're much likely to relate to. This leads to an appropriate figuring out of the exact requirement(s), followed by making a purchase accordingly.